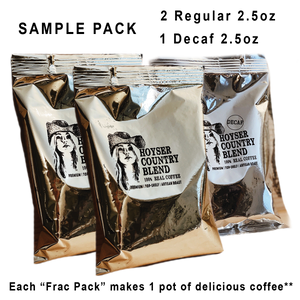 Give it a try! We know you're going to love it! Plus each Sample Pack comes with a special discount code off your first order!! 
Sample Packs Includes:
2 Regular 2.5oz Frac packs 
1 Decaf 2.5oz Frac pack 

Our favorite brew method for sampling: 
- Use a a regular drip machine 
- 8 tablespoons Hoyser Country Blend 
- 8 cups water
- Brew and sincerely enjoy your HCB coffee moment!!

Tag us in your pictures at @Hoysercountry on Instagram and join the facebook group This is Hoyser Country!